More Time for your Business
Don't spend hours dealing with hosting companies and content management systems, let us deal with it.
Better Customer Service
A smoothly run business takes time. When you can focus on your business and your customers, everyone benefits. We want your number one priority to be the day-to-day operations of running your business.
Increased Sales
Happy customers make loyal customers. We want your customers to tell everyone about the incredible experience they had with your company.
You Know your Business
We believe a website should increase your image and branding. It should be a natural extension to the overall theme, look, and feel of your business. For this reason, we learn as much as possible about your business and your goals.
We Know Design
You know your business, we know websites. We take your ideas and build a dynamic website that looks great on any cell phone, tablet, or computer. Within the next five years, internet usage on mobile phones will outpace computers. People are researching and buying from a multitude of devices so having a website that works and looks good on any electronic device is imperative. At Inspired Web Design, we listen to our client's ideas and make them a reality.
E-Commerce
Design

Development

Security

SEO

Unlimited Content Changes

WooCommerce

Premiere Hosting
Small Business
Design

Development

Security

SEO

Unlimited Content Changes

WooCommerce

Premiere Hosting
Blogger
Design

Development

Security

SEO

Limited Content Changes

WooCommerce

Premiere Hosting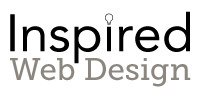 208-447-6744
beinspiredwebdesign@gmail.com