Monthly Plan
Let us manage your website and you just worry about your business.
Design
We design a custom-built WordPress website that fits the look and feel of your company. We want you to love your website.
Creation
With your images and text, we design a website that will wow your clients and unify your brand.
Security
We install safety features to keep your site safe and secure, then check it monthly to ensure continued safety.
Maintenance
We install all WordPress updates. We make sure your site is always functioning with routine check-ins, so you don't have too.
Site Updates
We can make minor changes or updates to your site, then every two and a half years we will redesign your site upon renewal.
Marketing/ SEO
We help your site get the visitors it deserves with up-to-date marketing and search engine optimization (SEO).
- Ready to get started? Contact us today -
Frequently Asked Questions
But what if I decide to leave?  We will do our best to provide the upmost in honest and quality service, but if for some reason you decide to move on then we give you option to buyout the design of your website. The buyout price diminishes over time.
What do I need to do to get started?
It's a simple as
contacting
us
today!
How long does it take to build a website? Assuming you provide us with all required materials (web hosting sign in, logo, photos, written content) then we will have it ready within 4-6 weeks.
E-Commerce
Design

Development

Security

SEO

Unlimited Content Changes

WooCommerce

Premiere Hosting
Small Business
Design

Development

Security

SEO

Unlimited Content Changes

WooCommerce

Premiere Hosting
Blogger
Design

Development

Security

SEO

30-Minute Content Changes

WooCommerce

Premiere Hosting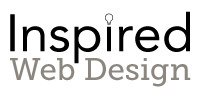 208-447-6744
beinspiredwebdesign@gmail.com